NOW CLOSED FOR APPLICATIONS. 
19/04/21 LINC 2021 Entry
Note the criteria for this year is the following (priority will be given to eligible applications):
1. Settings that do not currently employ a LINC graduate /INCO/Current LINC Student.
2. Settings that already employ a LINC graduate and have over 22 ECCE-aged children attending*.
3. All other settings.
Click here for the FAQs.
To apply, please visit the LINC website at https://lincprogramme.ie/apply-now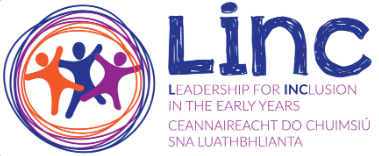 The Leadership for INClusion in the Early Years programme, LINC, is a Level 6 Special Purpose Award (Higher Education), that is designed to support the inclusion of children with additional needs in the early years. The course is offered for free to people working within early years education and is fully funded by the Department of Children and Youth Affairs. Once qualified, graduates will perform the role of Inclusion Coordinator within their early years setting.
The development of the programme is part of a government response to local, national and international demands for high quality education and training leading towards graduate pathways in the combined field of early childhood care and education (ECCE). The programme seeks to address the need for continuing professional development (CPD) in relation to the inclusion of children with additional needs.
Extra INCO Capitation for Settings
Early years settings that employ an Inclusion Coordinator (INCO) who has graduated from LINC will receive an extra €2 per week in capitation per ECCE-eligible child in a pre-school room, where the child is on an ECCE/CCS/TEC programme.  Subject to detailed operational guidelines, the increase applies from a) graduation of the Inclusion Coordinator from the higher education programme and b) completion of a signed agreement by the Inclusion Coordinator that they will take on the roles and responsibilities associated with the post. The additional €2 capitation applies to all ECCE children in the setting, not just children with special educational needs.
Download or Print the Role of the INclusion COordinator