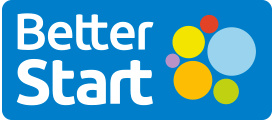 Better Start Quality Development Service is an additional resource to support and drive quality improvement. It provides a highly skilled and experienced Early Years Specialist team to work directly in a mentoring capacity with early years services, complementing and adding to other quality resources such as training, continuing professional development programmes, networking, cluster-type support groups and individual or team-based development work provided by the City and County Childcare Committees and the Voluntary Childcare Organisations.
Mentoring
Early Years Specialists are qualified (Level 8/9) early childhood professionals with a wealth of practice experience. They have a thorough grounding in evidence-based best practice, mentoring and facilitation. Early Years Specialists are Garda Vetted and receive on going professional support and supervision. They have experience of implementing quality frameworks (Síolta and Aistear) in a range of settings and across age groups – birth to 6 years and can offer information, guidance and "tried and tested" solutions which can build on the knowledge and experience of practitioners to enhance the quality of your service to children.
The Quality Development Service will operate on a national, rather than regional or county basis. Requests for the service come directly to Better Start from the City and County Childcare Committees. All requests for the service are processed centrally. Early Years Specialists will be allocated to the ECEC services on the basis of availability, skills and experience as far as possible matching the service profile. Emphasis in the first year of the new service will be large, full day care services who work with 40 or more children aged from birth to 6 years.
Criteria for a request may include:
A commitment and willingness by an Early Childhood Education and Care service to undertake quality development;

An area of quality development identified through statutory inspection reports;

A direct request by an Early Years Service provider for a mentor through their local City and County Childcare Committee;

Services which have had limited opportunities to participate in quality development.
If you are interested in availing of this service, please complete this form and email to enquiries@longfordchildcare.ie