Early Learning and Care Capital Grants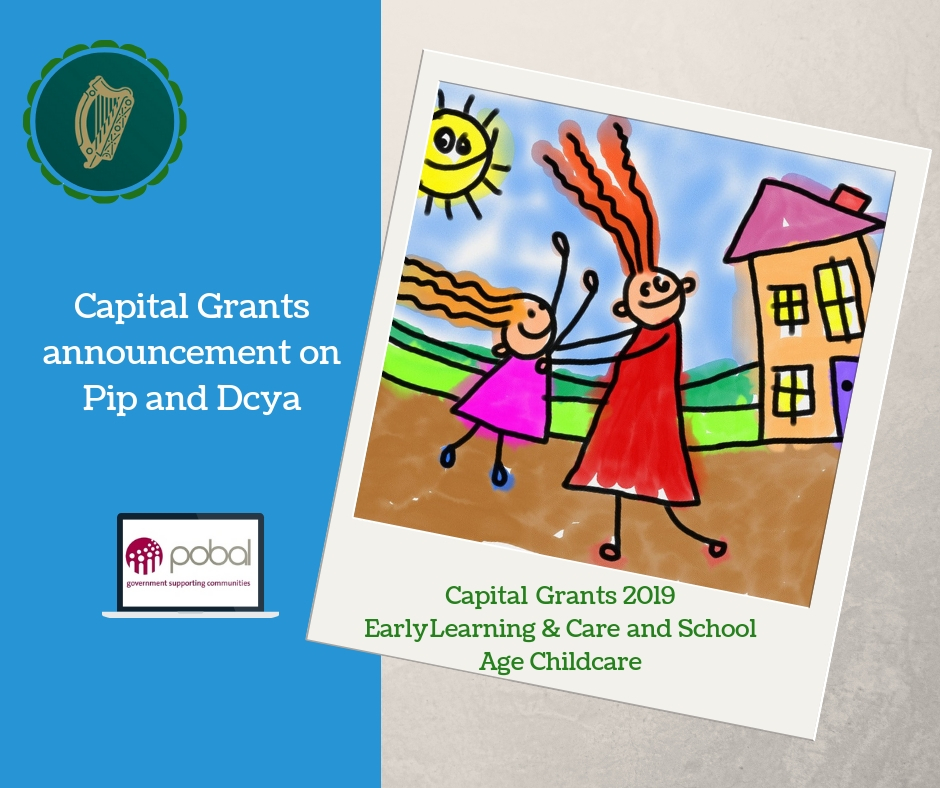 Extra spaces and fire-safety priorities for Childcare Investment in 2019 Providers urged to prepare applications for €9m capital fund
Friday 28th December 2018
The Minister for Children and Youth Affairs, Dr Katherine Zappone, TD is pleased to announce the priorities for 2019's Early Learning and Care and School Age Capital programmes. The Minister has secured €9m for capital grants across 2019.
The budget for the Early Learning and Care and School Age Capital programmes has been set at €6.106m.
A further announcement with details of an additional €3m to be associated with the new Affordable Childcare Scheme will issue early in 2019.
The programmes will be open for applications from early learning and care and school age childcare services in February 2019.
Capital funding under the programmes will be delivered under the following three strands:
Strand A: Creation of new places for 0-3 year olds – €4.231m (max. €50,000 per grant).
Strand B: Fire Safety for community early learning and care services – €0.875m, (max. €15,000 per grant).
Strand C: Creation of new school age places – €1m (max. €20,000 per grant).
The focus of the funding in 2019 is to continue the expansion of early learning and care places for 0-3 year olds and school age childcare places where this is most needed.
Funding is also being made available to aid community/not-for-profit early learning and childcare services in addressing fire safety issues that have been highlighted in inspection reports.
Commenting on the launch of the Capital Fund, Minister Zappone said: –
"2019 is going to be one of the most significant years in our efforts to transform one of the most expensive childcare services in the world into the best. The final groundwork is now being put in place ahead of the launch of the Affordable Childcare Scheme next October.
Across the year I am delighted to have secured more than €9 million in Capital Funding for early learning and care and school age services. Now I can confirm a first round of investment totalling €6.106m. We will start this funding process early in the year to give more time for applications and implementation. More children than ever in the history of the state are accessing government funded subsidies for early learning and care and I am mindful of the pressures and opportunities that this can create for the sector.
In the recent Pobal Annual Sector Profile, almost a quarter of all services indicated their intention to expand in the next 12-months, creating over 15,000 additional spaces for children nationwide. The Government is ready to assist in creating additional capacity at a time of rapid expansion and transformation.
Since 2015 Government investment in childcare is up 117%. Now it is time to take the next big leap as we prepare for the Affordable Childcare Scheme to become a reality which will benefit children, parents and providers for generations to come."
Further information on the application process, including detailed application guidelines, will be made available to services in January 2019.
Childcare providers are encouraged to contact their local City/County Childcare Committee to answer any questions they may have.
DCYA
Capital 2018 Announcement
Monday 4th December, 2017
The Minister for Children and Youth Affairs is delighted to announce that there will be an Early Years and a School Age Childcare Capital Programme in 2018. The purpose of this announcement is to alert childcare services about the upcoming programme and give time to prepare to apply for the grants.
Strands
This year's programme call will consist of 5 Strands.
– Strand 1: Expansion of an existing facility or creation of a new facility (Early Years)
– Strand 2: Essential building maintenance (Early Years, community services only)
– Strand 3: Creation of new natural outdoor play area (Early Years)
– Strand 4: The expansion of an existing facility or creation of a new facility (School Age Childcare)
– Strand 5: Essential building maintenance & quality improvement (School Age Childcare, community services only)Services can apply for all strands for which they are eligible.
Timelines
Please note that in 2018, Early Years and School Age Childcare Capital schemes will run concurrently.
It is hoped to open applications early in 2018 to allow for appraisal, decision-making and contracting to take place in advance of the summer.
DCYA reference numbers
Please note-
To apply for funding under any of the strands, ALL applicants MUST HAVE a valid DCYA reference number.
The DCYA reference number under which an application is made MUST relate to the facility (address) at which the grant monies are to be spent and reported.
If you intend to move or open a facility at a different address you MUST obtain a new DCYA reference number before the opening of capital applications. You must have a DCYA reference number for each facility i.e. premises for which you wish to make an application for funding.
To obtain a DCYA reference number you must first contact your local City/County Childcare Committee who will provide you with the relevant support and advice.
All Early Years services are required to register with Tusla and your City/County Childcare Committee will help you in this regard. For new Early Years premises, DCYA can provide reference numbers in advance of a Tusla fit-for-purpose check for the purpose of applications to the Capital programme.
All School Age Childcare Services are required to register with DCYA only. Your local City/County Childcare Committee will advise and support you in this regard.
Further information on 2018 Capital programmes will be available in December and full application guidelines will follow early in 2018.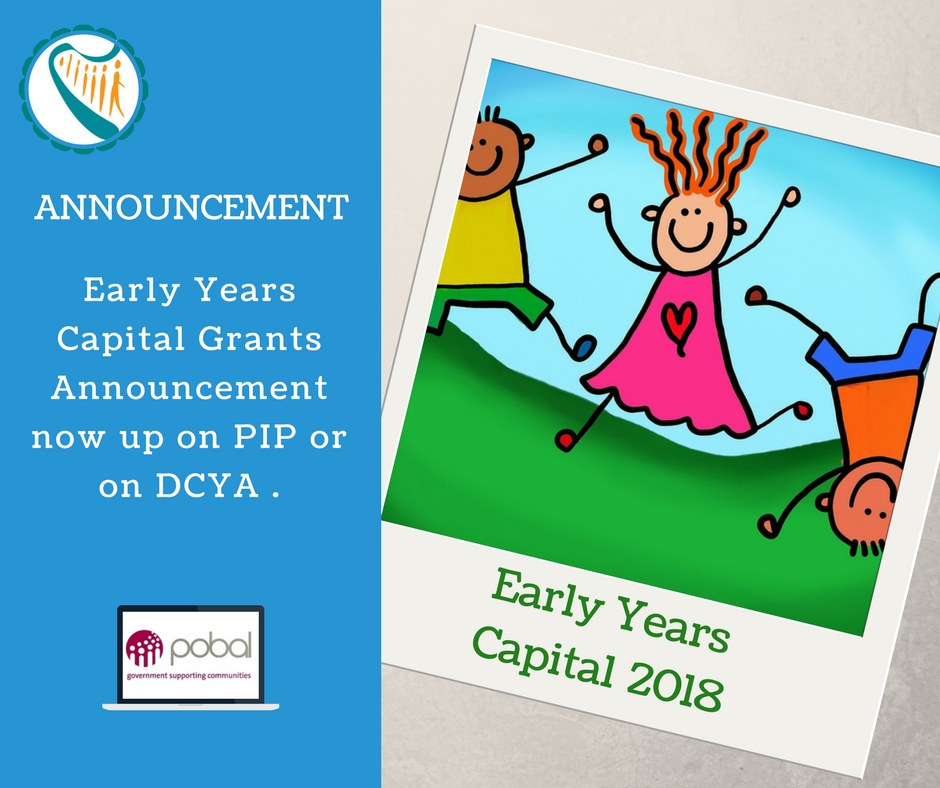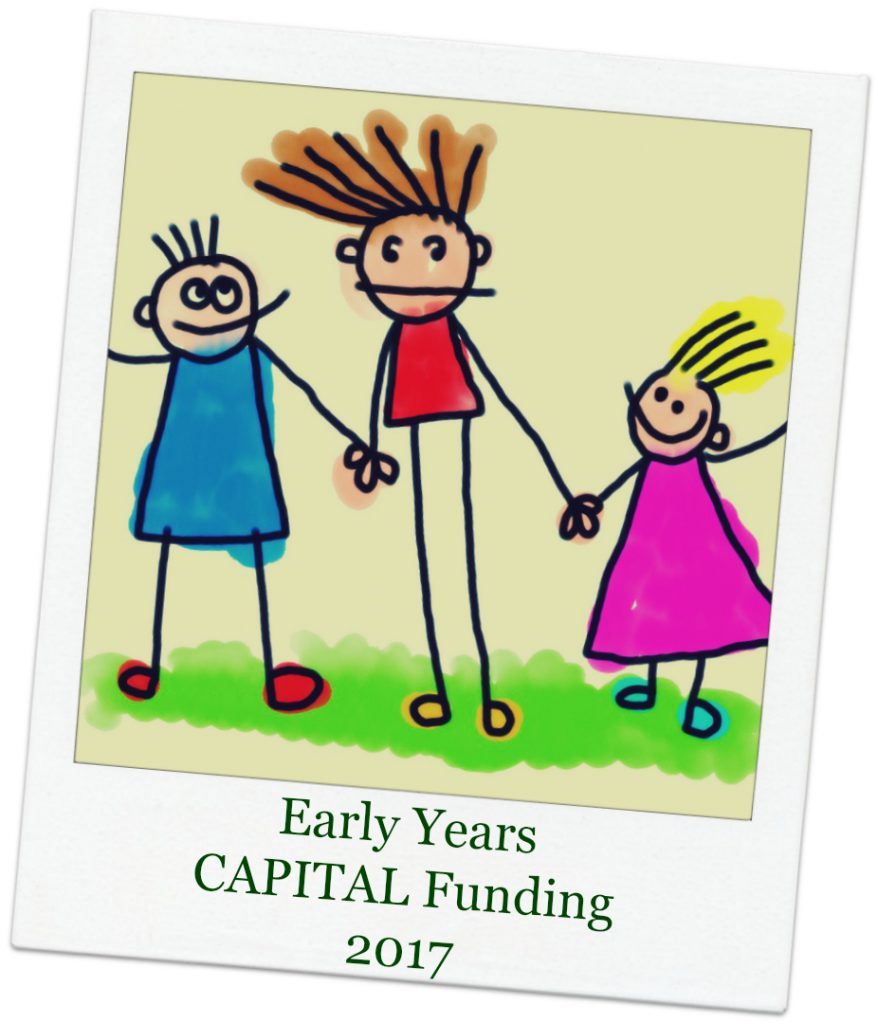 The Early Years Capital Grants are grants that the government have been opening up applications for each year for Early Years Services. These have been available to both private and community services. These are generally available at the same time of year, either March/April. Each Year these grants are directed to different areas of quality within the sector. This year (2017) in particular,
Capacity
One aim is to enable the expansion of early years services in areas of greatest need, where it is evident that supply is not meeting demand. This year's programme will include and support the expansion of places for 0-3 year olds as well as increasing the number of ECCE rooms. It is anticipated that demand for places will continue to rise due to the expansion of the Early Childhood Care (ECCE) and the announcement of the Affordable Early Years Service Providers Scheme in the 2016 budget.
Sustainability
Alongside increasing the number of places in services, it is important that buildings, specifically community services that received large capital investment in the past, remain fit for purpose and are energy efficient. This year's programme will include opportunities for investment in works, which will contribute to improving sustainability by reducing the energy and building maintenance costs in the short term.
Quality
The quality initiative component of the capital grant this year aims to provide opportunities for children to play outdoors in a way that promotes physical development, provides health benefits and facilitates children to learn about risks and challenges in a natural and safe environment. This initiative is targeted at smaller services, particularly those in disadvantaged areas who have not previously availed of such funding.
WHEN THE GRANTS ARE AVAILABLE, WE WILL UPDATE YOU(SERVICE PROVIDER) VIA EMAIL WITH ALL THE INFORMATION FOR THE YEAR AND GUIDELINES. WE WILL ALSO POST UPDATES ON OUR SOCIAL MEDIA ACCOUNTS OF SUCH NEWS.
If you would like help with your Early Years Grants application, Longford CCC are here for support and are happy to help you with your application.