Is a curriculum in the Early Years important?
When planning our work we need to think about is a curriculum in the Early Years important? We often hear about the importance of getting children off to a strong start. The Early Years is the foundation for future learning. With those in mind, it is essential that we look at the meaning of curriculum in the early year's.
What is Curriculum?
Children learn quickly and are often filled with curiosity about the world around them. Sometimes they are referred to as sponges, absorbing everything around them. Preschools and full day care services that work with children in the early years have a unique opportunity to support a lifelong love of learning. An early year's curriculum is an important part of this process. It is everything that children learn. Your curriculum can be planned for or spur-of-the-moment, adult led or child led. Simply put, a curriculum is everything that children do, see, hear or feel in an early years setting.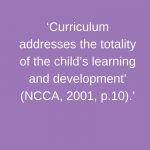 Have a look at Professor Elizabeth Wood from University of Sheffield talking about what a curriculum is here
So, clearly a curriculum is more than the routine within a setting or a list of activities. Today, we know that a curriculum needs to be child-centred, developmentally appropriate, differentiated and inclusive. In Ireland, Aistear the National early childhood curriculum framework is based on 12 principles which incorporates these approaches. As a framework it provides information and ideas to support practitioners plan and develop a curriculum that supports children's holistic development through play and other experiences.  Look at the AistearSiolta practice guide website for practical activities and more podcasts about curriculum. These will help develop your curriculum, develop a more emergent and inquiry-based curriculum and help you to reflect on this through time.
What is the role of practitioners in curriculum development?
What then is the role of the practitioner in relation to curriculum development. As practitioners we need to give consideration not only to the content of the child's learning, but also how the learning is offered to and experienced by the child. We need to think about children's learning styles, our own teaching methods and integration of subject areas. We need to look at our learning environments (indoors and outdoors) and our interactions (with children and colleagues). However, it is also important that each early year's setting determines the stage of development of its children and the most appropriate way to meet their needs when they are planning their curriculum.
Is a curriculum in the Early Years important?
Back to the question at hand, is a curriculum in the early years important? We know it is a means to passing on knowledge and skills to children. It is about developing our society – future leaders, teachers, workers, parents. It is about providing space to think about and create answers or solutions to questions children might have. So, yes we think a curriculum is important. But what do you think?