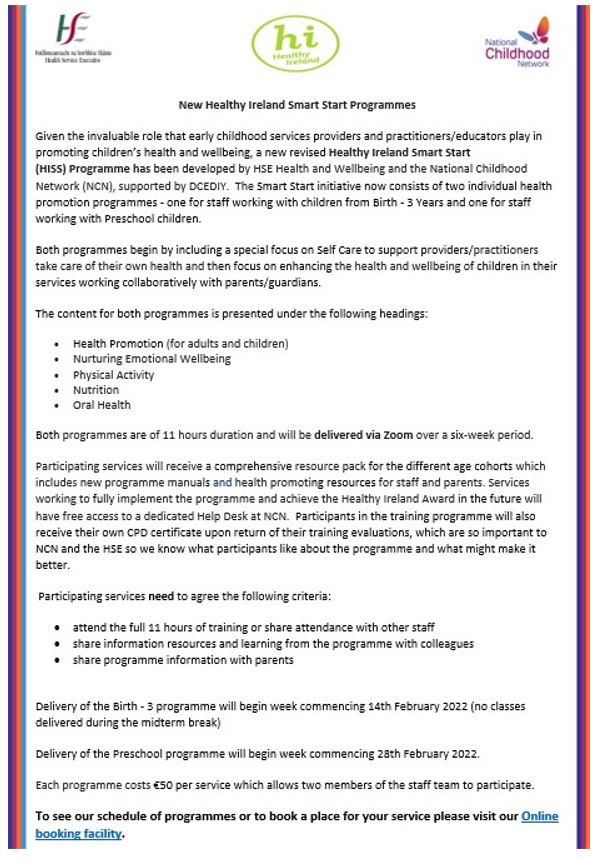 Upcoming Healthy Ireland Smart Start Programmes
Given the invaluable role that early childhood services providers and practitioners/educators play in promoting children's health and wellbeing, a new revised Healthy Ireland Smart Start (HISS) Programme has been developed by HSE Health and Wellbeing and the National Childhood Network (NCN), supported by DCEDIY. The Smart Start initiative now consists of two individual health promotion programmes – one for staff working with children from Birth – 3 Years and one for staff working with Preschool children.
Both programmes begin by including a special focus on Self Care to support providers/practitioners take care of their own health and then focus on enhancing the health and wellbeing of children in their services working collaboratively with parents/guardians. The content for both programmes is presented under the following headings:
• Health Promotion (for adults and children)
• Nurturing Emotional Wellbeing
• Physical Activity
• Nutrition
• Oral Health
Both programmes are of 11 hours duration and will be delivered via Zoom over a six-week period.
Participating services will receive a comprehensive resource pack for the different age cohorts which includes new programme manuals and health promoting resources for staff and parents. Services working to fully implement the programme and achieve the Healthy Ireland Award in the future will have free access to a dedicated Help Desk at NCN. Participants in the training programme will also receive their own CPD certificate upon return of their training evaluations, which are so important to NCN and the HSE so we know what participants like about the programme and what might make it better.
Participating services need to agree the following criteria:
• attend the full 11 hours of training or share attendance with other staff
• share information resources and learning from the programme with colleagues
• share programme information with parents
Delivery of the Birth – 3 programme will begin week commencing 14th February 2022 (no classes delivered during the midterm break)Delivery of the Preschool programme will begin week commencing 28th February 2022
Each programme costs €50 per service which allows two members of the staff team to participate.
To see our schedule of programmes or to book a place for your service please visit our Online booking facility. https://www.ncn.ie/index.php/training/training-book-online