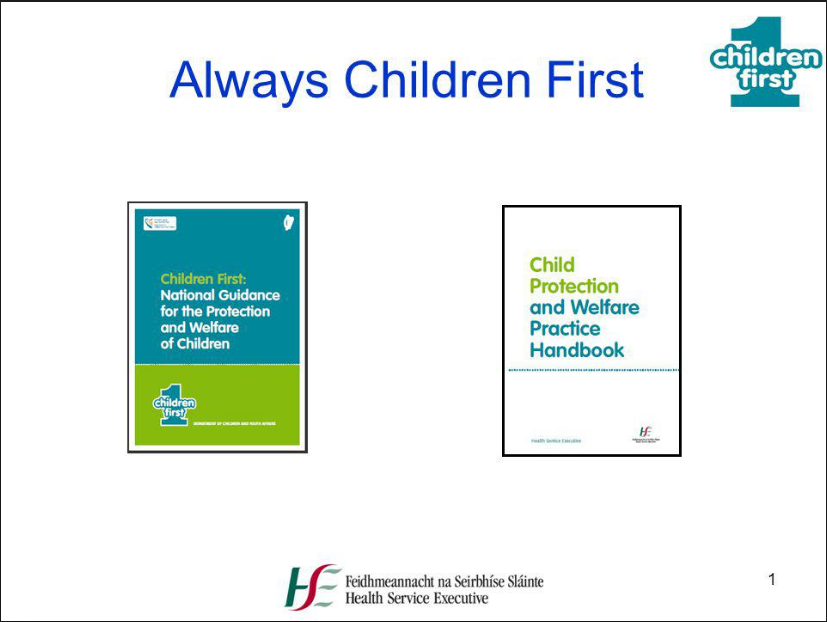 Children First Guidance

The revised Children First: National Guidance for the Protection and Welfare of Children was published in July 2011. The Guidance sets out a number of key messages relating to the duty to protect children. Among these are that the safety and welfare of children is everyone's responsibility, that children will have safer lives where everyone is attentive to their wellbeing and that people who work with children across a range of areas understand their responsibility for safe practice and the reporting of concerns.   It provides greater clarity and guidance for individuals and organisations in identifying and responding appropriately to child abuse and neglect and sets out specific protocols for Social Workers in the Child and Family Agency, Gardaí and other front line staff in dealing with suspected abuse and neglect of children.

Children First National Guidance 2011
The revised Guidance is accompanied by the Child Welfare and Protection Practice Handbook [HSE, 2011] which is aimed at professionals working in child welfare and protection and provides information on best practice using the main Children First Guidance as a reference. In July 2011, Minister Fitzgerald launched the Handbook which was developed by the National Office for Child and Family Services in the HSE.
For more information on specific aspects of the Guidance please follow the links below: