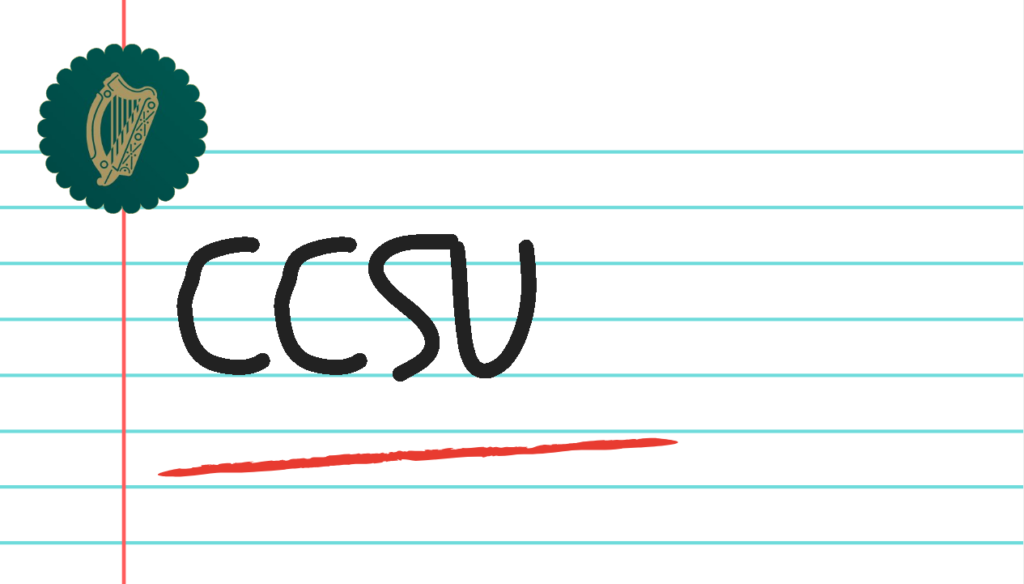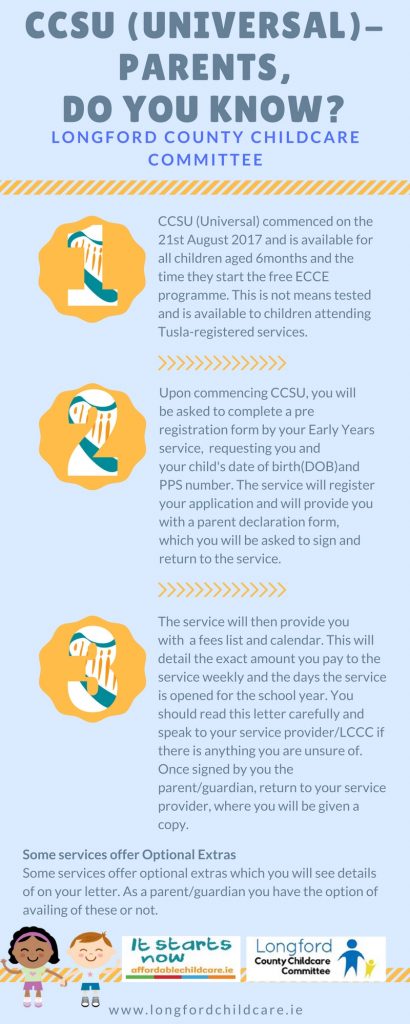 Overview of Universal Subsidy
As part of the Government policy to make childcare more affordable, the DCYA has introduced a
universal childcare subvention payment of up to €20 per week for families using eligible childcare
providers for the care of children aged from 6 months to the first eligible point of entry to the ECCE scheme. This scheme is administered via an enhancement to the CCS Plus scheme.
Eligibility for the Universal Subsidy
The childcare subsidy is available to all children aged from 6 months to the first eligible point of
entry to the ECCE programme.
Required documents
The parent must provide the child's PPS Number and date of birth as well as the parent's PPS
Number. Documentation containing PPSN information must be destroyed once no longer required.
Programme Rates
The maximum weekly universal childcare subsidy is €20. As CCS subsidies are currently paid
according to session type, i.e. full-time, part-time, sessional, half-sessional, this maximum weekly
universal subsidy rate of €20 will be paid on a pro-rata basis according to session type.
Universal Subsidy (CCSU) rates, please see table below.
CCSU and Child-minders
A child-minder can access CCSU provided they meet all CCS Plus eligibility criteria, and are registered with Tusla. (Please note that a childminder must be minding four or more children to qualify for Tusla registration).

The Affordable Childcare Scheme- next steps
Budget 2017 announced a radical redesign of how we deliver support to make quality childcare accessible and affordable for families in Ireland. The Affordable Childcare Scheme (ACS) will provide financial support for parents towards the cost of childcare. It will provide a system from which both universal and targeted subsidies can be provided towards the cost of childcare.
This new Scheme will replace the existing targeted childcare programmes with a single, streamlined and more user-friendly scheme and will include "wraparound" care for pre-school and school-age children. The ambition of this project is immense; its scope matched only in size by its complexity. Once launched, this scheme will:
improve outcomes for children,
reduce poverty,
facilitate labour activation and,
tangibly reduce the cost of childcare for tens of thousands of families.
To find out more visit the Affordable Childcare Website now where you can access key documents in relation to the ongoing development of the scheme. 
Source (www.affordablechildcare.ie)