ECCE (Early Childhood Care and Education)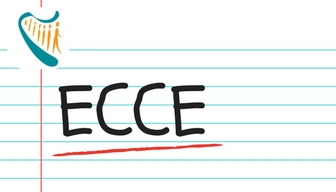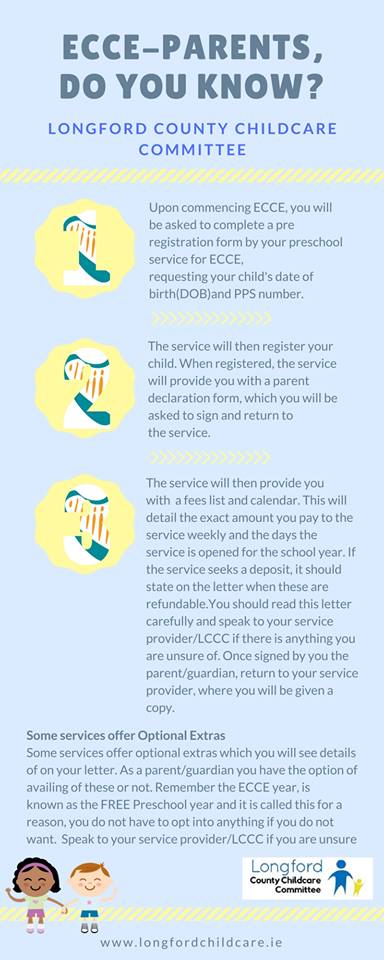 Overview of ECCE
The ECCE programme is a universal programme available to all children within the eligible age range.
It provides children with their first formal experience of early learning prior to commencing primary
school. The programme is provided for three hours per day, five days per week over 38 weeks2
per year and the programme year runs from September to June. There are three points of entry
throughout the programme year – September, January and April. Childcare services taking part in
the ECCE scheme must provide an appropriate pre-school educational programme which adheres to
the principles of Síolta and Aistear, the national frameworks for early years care and education. Staff
of the local City/County Childcare Committees (CCCs) support participating services with assistive
visits and advice. ECCE is only available through participating early years services; a list of these
services is available through the relevant local CCC.
Eligibility for ECCE
The programme is available to all children from the age of three. The three entry points allow
children to begin free pre-school as soon as possible after they have turned three years of age. The
three eligibility points for the 2017/18 ECCE Programme are as follows:
Born between Entry point
1 January 2013 and 31 August 2014 From 28 August 2017
1 January 2013 and 31 December 2014 From 02 January 2018
1 January 2013 and 31 March 2015 From 02 April 2018
For further information on eligibility please see our ECCE calculator below.
Age of eligible child
A child must have turned three years and not be older than 5 years and 6 months by the end of June
of the programme year to be eligible.
Exceptions to upper age limit
In exceptional circumstances, exemptions from the upper age limit may be granted where a child has
special needs for the 2017/18 programme year only. Applications for such exemptions must be
submitted in writing to the DCYA and must include a letter of recommendation from a specialist
stating support for the child to avail of a further year of preschool. (Exemptions will not be granted
where a child will turn 6 during the pre-school year)
Required documents/information
Parent(s) must provide child's full name as per birth certificate or passport, child's date of birth and
child's PPSN in order to register their child on the programme. Documentation containing PPSN
information must be destroyed once no longer required.